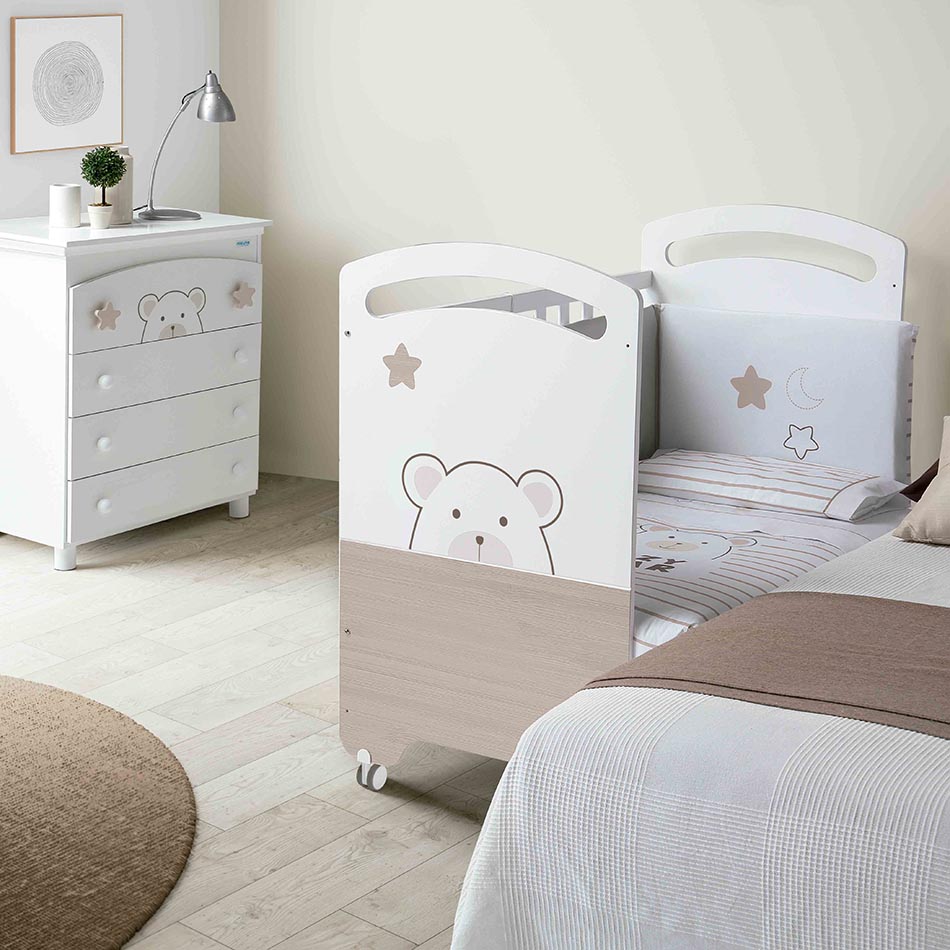 Peek-a-boo! A cute teddy bear peeks out from the Bubu cot to play hide and seek with your little one. This collection features the latest technology in digital printing on wood. It consists of a cot, a bathtub and matching bedding.
As an option, you can add on several other Micuna systems:
The DUO kit, which converts two cots into twin cots, the Pendulum System that allows the cot to be rocked by a rocker drawer, or the RELAX SYSTEM, which is a practical system that allows you to move the cot mattress between two different positions: horizontal, or at an inclination of between 7º and 10º, without having to lift the baby out of the cot or wake them up. The DESK kit is another optional Micuna system, which you can use to turn your baby's cot into a practical desk. The Be2in Wood kit also allows you to convert it into a co-sleeping cot, with a system of fittings and straps that are easy to install and which have all the relevant safety guarantees. And also, you have the optional Montessori safety barrier, which is the perfect accessory for when your baby learns to get in and out of the cot by themselves.
This collection is designed and manufactured in Spain.
Point of interest:
Our cot is made of beech wood and lacquered in white, using water-based paints and non-toxic varnishes. All our wood comes from sustainably managed forests, and we develop our designs, production and distribution under the ecodesign premise. We have a strong commitment to green manufacturing.
BUBU COT
External dimensions: Height 110 cm / Width 65.5 cm / Depth 120 cm
Internal dimensions: Length 117 cm / Width 59.5 cm
Material: Beech – Lacquered MDF
Safety Certificate: European
European approval: UNE-EN 716-1/2:2008 (+A1:2013)
Colour: White
Features:
– 3 bed base positions to make it easy for your baby to rest
– Movable side for better access to the inside of the cot
– Includes 4 wheels, 2 of which have brakes for added safety
Optional:
– CP-949 luxe drawer
– CP-1688 rocker drawer
– CP-744 cot changing table
– CP-1775 relax kit
– CP-1774 Duo Kit (twins)
– CP-1828 Be2in Wood
– CP-1839 Desk kit
– MONT-1863 Montessori cot barrier
– Several Micuna high-quality cot mattresses 117 x 57 cm
– Matching BUBU bedding available
– CH-570 pillow
Recommendations:
To clean the cot, we recommend wiping it with a dry cloth to remove dust, or with a cloth that you have slightly dampened with water.
We do not recommend using abrasive products