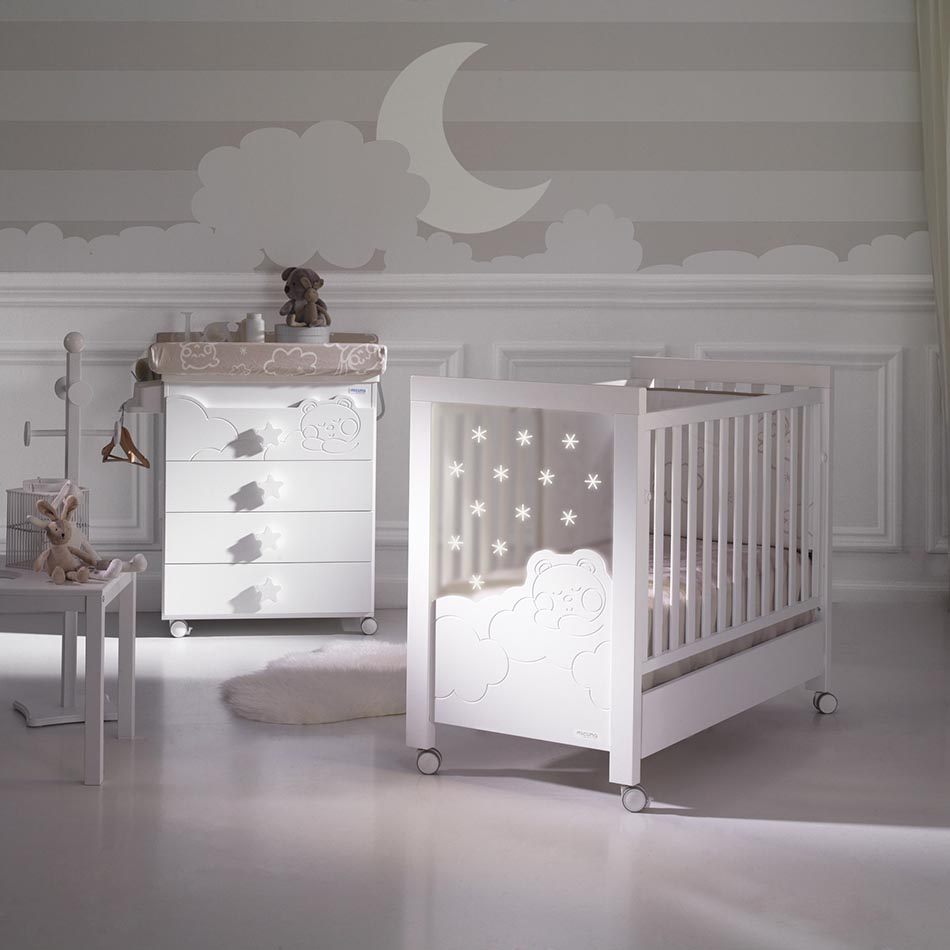 The Dolce Luce 120x60cm cot combines the sweetest design with the most innovative technology, allowing the cot to be fitted with a soft LED lighting system, for reassurance and monitoring. It is designed and manufactured in Spain, using beech wood from sustainable forests.
The Dolce Luce collection consists of a cot and a bathtub, and is available in three colours: white, sand and berlino grey.
It includes the RELAX SYSTEM as standard. This is a practical system that allows you to move the cot mattress between two different positions: horizontal, or at an inclination of between 7º and 10º, without having to lift the baby out of the cot or wake them up.
Our cot wheels from the Selection catalogue have a high-quality rubber tread, which prevents them from damaging delicate floors and parquet.
DOLCE LUCE COT 120×60
External dimensions: Height 107.5 cm / Width 66 cm / Depth 125 cm
Internal dimensions: Length 117 cm / Width 59.5 cm
Material: Beech / Lacquered MDF / Methacrylate
Safety Certificate: European
European approval: UNE-EN 716-1/2:2008 (+A1:2013).
Colour: White
Features:
– 3 bed base positions
– Movable side
– With 4 wheels that have a high-quality rubber tread, which prevents them from damaging delicate floors and parquet, and two of which have brakes
– Relax System
– With LED lighting system
– LED System
– The front panel includes a beautiful engraving with a sweet teddy bear
Optional:
– CP-1405 White drawer
– CP-1688 Rocker drawer
– CP-1828 Wood co-sleeping kit
– CP-1839 Desk kit
– MONT-1863 Safety barrier
– Cot mattress 117 x 57 cm
– CH-570 Cot pillow 120 cm
– Matching bedding available in 100% cotton