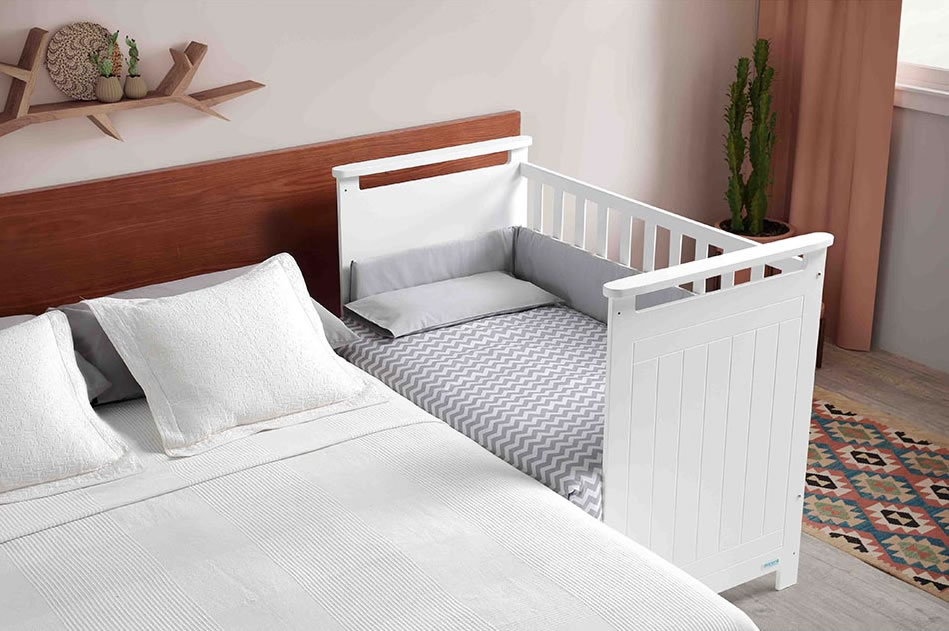 La colección Occitane nos transporta a una habitación de estilo sencillo y colonial. Cuna, bañera y cómoda a juego, con rallados sobre la madera y en color blanco, combinan perfectamente con los textiles más coloridos.
Opcionalmente se le pueden añadir varios sistemas de micuna: El sistema Pendulum System que permite el balanceo de la cuna mediante un cajón balancín o el RELAX SYSTEM, un práctico sistema mediante el cual podrás colocar el colchón de la cuna en dos posiciones diferentes: en posición horizontal y con una inclinación de 7º a 10º, sin necesidad se sacar al bebé de la cuna ni despertarlo. También el kit DESK es un sistema opcional de micuna, con el que podrás convertir la cuna de tu bebé en un práctico escritorio. Con el kit Be2in Wood, podrás convertirla en colecho mediante un sistema de herrajes y correas de fácil instalación y con todas las garantias de seguridad. Por último, el opcional de barrera MICUSSORI , el complemento perfecto para cuando tu bebé aprenda a bajar y subir solito de la cuna.
Una colección diseñada y fabricada en España.
Interesante:
Nuestra cuna está fabricada en madera de haya lacada en blanco con pinturas al agua y barnices no tóxicos. Todas nuestras maderas provienen de bosques gestionados de forma sostenible y desarrollamos nuestros diseños, producción y distribución bajo las premisas del eco-diseño. Tenemos un gran compromiso con la fabricación ecológica.
OCCITANE COT
External dimensions: Height 100.6 cm / Width 68 cm / Depth 125.1 cm
Internal dimensions: Length 117 / Width 59.5 cm
Material: Beech – Lacquered MDF
Safety Certificate: European
European approval: UNE-EN 716-1/2:2008 (+A1:2013)
Colour: White
Features:
– 3 bed base positions to make it easy for your baby to rest
– Movable side for better access to the inside of the cot
– Includes 4 wheels, 2 of which have brakes for added safety
– One of the panels includes beautiful engraved lines
Optional:
– CP-949 luxe drawer
– CP-1688 rocker drawer
– CP-744 cot changing table
– CP-1775 relax kit
– CP-1828 Be2in Wood
– CP-1839 Desk kit
– MONT-1863 Micussori cot barrier
– Several Micuna high-quality cot mattresses 117 x 57 cm
– 120cm bedding available
– CH-570 pillow
Recommendations:
To clean the cot, we recommend wiping it with a dry cloth to remove dust, or with a cloth that you have slightly dampened with water.
We do not recommend using abrasive products.