Bonne Nuit Duvet + Bumper Kit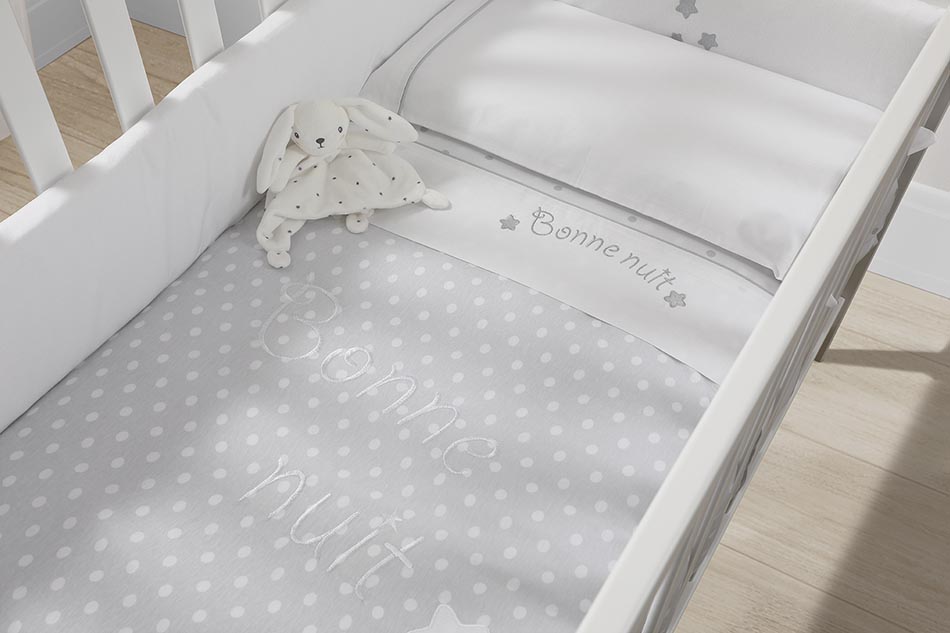 A very elegant collection in a French style, which will give your baby's bedroom a very chic touch. Made from soft, plain knit, 100% cotton, it brings a lot of softness and comfort to the baby's sleeping environment. Exclusive print and fabric, designed by Micuna.
The Bonne Nuit collection consists of a reversible duvet, a low bumper, a set of sheets and a protective cover for the bathtub. Can be combined with any of our 120×60 cm cots
This image shows the reversible duvet and low bumper kit that surrounds the entire inside of the cot. The embroidered star appliqués add delicacy and quality to this collection.
TX-1650 BONNE NUIT
Bumper + duvet kit 120×60 cm
Colour: White / Grey
Material: Fine knit 100% Cotton
Features:
– Reversible duvet
– Collection made from a soft, smooth, knitted fabric
– Includes padding
– Removable cover kit
– Low bumper that surrounds the entire inside of the cot, increasing the baby's safety while they are resting. Includes adhesive velcro to place on the headboard of the cot so that it fits better