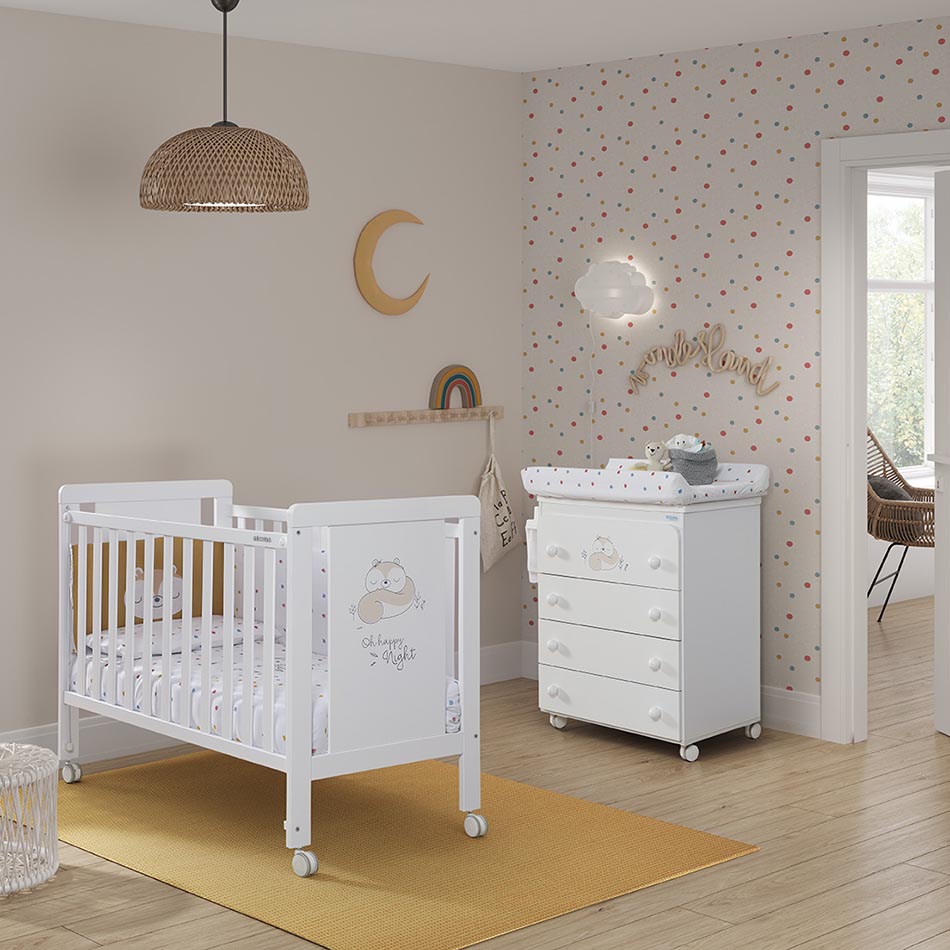 The Micuna Happy antibacterial cot is the brand's wildlife cot. Its adorable design, featuring a cute squirrel, brightens up any child's room.
The 120 x 60 cm Happy cot is available in white and white-waterwood, and it has optional matching 100% cotton bedding. You can also finish off the baby's room with the bathtub that converts into a chest of drawers. Match them all and you'll have the perfect room! This is one of Micuna's most fun collections, and it is designed and manufactured in Spain.
As an option, you can add on several other Micuna systems: The Duo kit, which converts two cots into twin cots, the Pendulum System that allows the cot to be rocked by a rocker drawer, or the Relax System, which is a practical system that allows you to move the cot mattress between two different positions: horizontal, or at an inclination of between 7º and 10º, without having to lift the baby out of the cot or wake them up. And also, you have the optional Montessori safety barrier, which is the perfect accessory for when your baby learns to get in and out of the cot by themselves.
Point of interest:
All our wood comes from sustainably managed forests, and we develop our designs, production and distribution under the ecodesign premise. We have a strong commitment to green manufacturing.
HAPPY COT 120X60 CM
External dimensions: 120 x 65.5 x 99 cm
Internal dimensions: 117 x 59.5 cm
Features:
– 3 bed base positions
– Movable side
– With wheels
Optional:
– CP-949 Luxe drawer
– Rocker Drawer CP-1688
– Cot changing table CP-744
– Relax Kit CP-1775
– 120 x 60 cm Cot Mattress
– Desk Kit CP-1953
– CP-1828 BE2IN Wood Co-sleeping Kit
– CH-570 Pillow
– Twin Kit CP-1774
– Barrier MONT-1863
– Matching bedding available